Boston Bible Study Leader Training 2016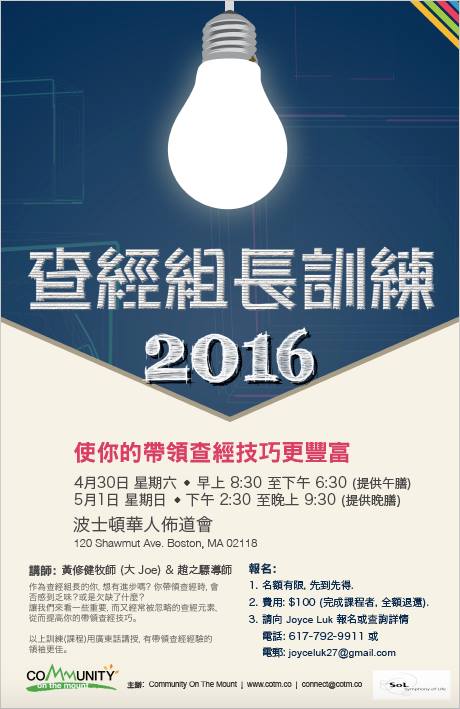 Speaker: Rev. Joseph Wong (Dai Joe) & Bobbie Chiu
Language: Cantonese
Have you lead a bible study or participate in one? Does your Bible studies feel dry? Like something is missing? Come explore different tools and areas of Bible study that are vital but often neglected. This training will be conducted in Cantonese. It is a series designed for those with previous Bible Study experience. We also welcome the ones who does not have Bible Study Leading experience and would love to learn more!
Date: April 30th – May 1st, 2016
Time:
Saturday: 8:30am – 6:30pm (1 hour lunch Provided)
Sunday: 2:30pm – 9:30pm (1 hour dinner provided)

Location: Boston Chinese Evangelical Church
120 Shawmut Ave
Boston, MA 02118
Registration Fee: $100 (It will be fully refund if you complete all 15 hours of training).
Parking will be available upon request.
Registration Link: https://goo.gl/mSNxes