Holistic Day Support Program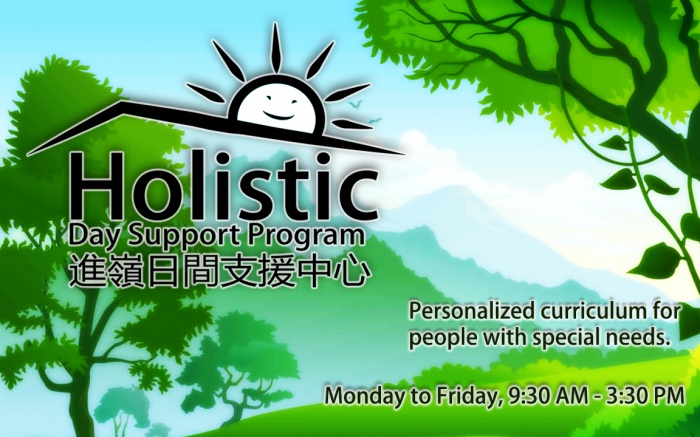 If you are interested to volunteer in the summer, click HERE for more info.
Mission
We believe in the principle that every individual deserves equal rights and opportunities. Everyone has the right to be loved and cared for, to participate and integrate into society, as well as to develop and realize their potential.
Promote individual's potential
Care for clients' needs
Provide holistic caring
Foster community harmony
Vision
The Program adopts a client-oriented holistic approach, focusing on developmental balance in different aspects, such as moral, intellectual, physical, social, artistic, and spiritual.
Service Objective
Provide quality services and trainings to enable people with intellectual disabilities to fully develop in their home, personal, self-care, leisure, and community life. The quality of life of these individuals can be improved through taking care of their physical, social, and emotional needs. * Provide opportunities for a wider range of experiences, and to broaden their horizons in order to enjoy a richer life. * Strengthen families and communities to face challenges and further growth. * Promote mutual love, encourage mutual respect and appreciation, and promote social inclusion.
Service Area
Day Support Program for People with Special NeedsIn-Home Support ProgramAfter School ProgramPersonal Growth Training ProgramIndividuals & Families Support ProgramCommunity Education & Recreation ActivitiesCaregivers/Parents Support Group
Whom We Serve
We serve individuals with different medically diagnosed disabilities such as mentally challenged with Down Syndrome, Autism, Epilepsy and Learning Disabilities.
Service Hour
Service hours: Monday to Friday between 9:30 AM and 3:30 PM
---

[進嶺日間服務中心]
[進嶺日間服務中心] 致力服務智障人士,服務的宗旨是讓他們在身心靈方面充分發展,達致個人成長,融入社群。中心為針對學員的個別興趣和需要,現推出以下活動協助他們達致德智體群美旳學習目標。
[個人成長GPS] 培訓班
對象:八歲以上的智障青少年
內容:採用活動教學模式,提高學習興趣及能力,促進智能上發展。
[展能藝術班]
對象:八歲以上的智障青少年
內容:透過創意繪畫,提高專注力及創造力,増強學習興趣和自信心。
[一對一老友記計劃]
對象:卄一歲被診斷為有各種發展障礙需要人士,包括自閉症,唐氏綜合症,學習遲緩等。
內容:以一對一形式,提供個別關懷及支持,達致身心發展健康,増強社交能力等。
與此同時,中心亦針對家長面對教養智障子女面對很大的身心壓力,現正招募
[進嶺加油站]家長互助小組成員
對象:凡有智障子女的家長
內容:藉講座及小組分享,増加教育智障兒童及青年知識,達致互相支持,共同成長的支緩網絡。
Community on the Mount
501 Alden Road,
Unit 03, Markham, ON,
L3R 3L4
查詢詳情請致電:(905) 947 – 1796 /(416) 917 – 0740 許姑娘